Welcome To Nourishing Minds Psychological Therapy
COVID-19 Update: sessions will be undertaken via telephone, skype, Zoom, Microsoft TEAMS

"Take the opportunity to get things sorted and not dwell. I was able to improve before I went back to work", S.K, Manchester.



We Aim to provide a confidential, professional and fully accredited psychological therapy service, helping you on the road to recovery.
Provide Cognitive Behavioural Therapy and other psychological therapies for mild to moderate mental health problems including depression, anxiety, stress, work related stress, post traumatic stress disorder, obsessive compulsive disorder, difficulty sleeping, body dysmorphia disorder, social anxiety, generalised anxiety disorder (excessive worry), low self esteem, phobias, eating issues, sexuality related concerns, health anxiety, panic and agoraphobia, amongst other mental health presentations using Cognitive Behavioural Therapy and other NICE (National Institute for Health and Clinical Excellence) recommended interventions.

In our daily lives, we attempt to manage our emotions and thoughts but may feel unable to make lasting changes. At Nourishing Minds we are dedicated to helping you achieve your goals. Mental health can be treated and recovery is possible. Cognitive Behavioural Therapy in particular has been promulgated by the Department of Health for providing evidence based treatment and effectively treating mental health concerns. Give our team a call so we can discuss how this service can help you.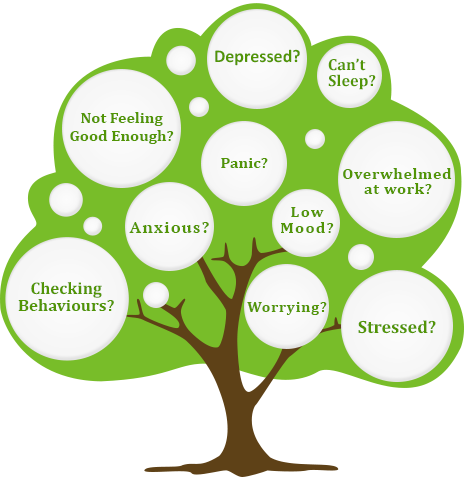 How we can help:
Challenging thinking patterns: our negative thinking styles can impact on how we see others, the world and ourselves. We can help create a balanced perspective.
Modifying unhelpful behaviour: we might be doing things which hinder progress and keep our problems going. We can help you break this vicious cycle.
Coping strategies: avoidance and distraction is not the same as copying. We can help you cope with life's challenges.
Some common concerns include
Panic
Depression
Anxiety
OCD (Obsessive Compulsive Disorder)
Trauma
Social Anxiety
BDD (Body Dysmorphic Disorder)
PTSD (Post Traumatic Stress Disorder)
Worrying
Low Self-esteem
Specific Phobia